Welcome to SapphireTalk!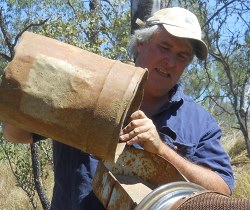 On this site you'll find our own Blog where we share thoughts, knowledge and a little BS about sapphires, The Gemfields, and our own enterprises and experiences… and your comments are welcome!
Make sure you visit our Forum where you can have your say about any topic relating to sapphires and The Gemfields. See what others are saying and get involved yourself… you can easily become part of the conversation yourself.
You'll also find a wide range of links to other Gemfields businesses… from accomodation through to fossicking, jewellery, and more. In fact, everything you'll need to make your trip to the Central Queensland Gemfields a holiday to remember.
So… look around and get involved… no Sapphire Talk is any good without conversation!
Latest Blog Post:
Fascinating Travel Blogs! Doug

We've had some terrific write-ups in international travel blogs from highly intelligent, attractive and influential writers who came on our "Do-It-Yourself Sapphire Digging Experience".

The first may require you to learn Dutch. We get many visitors from Europe looking for that great Aussie Outback experience… and what could be more of an experience than digging your own sapphires? Traveller-writers Johan & Bo have a fabulous travel blog following their Australian adventure… their webpage about their sapphire experience can be found here: Johan & Bo's Aussie Travel Blog

Even if you don't speak Dutch you will enjoy the article… plenty of great photos taking you through a whole day digging sapphires, learning their worth, and then exploring the Central Queensland Gemfields.

Of course, there are some of you (and us) to whom Dutchish is a foreign language. To view an English (Googlish) translation, try this version: Johan & Bo's Approximate English Translation

If you want to get a feeling for the experience you will have on Keith's self-drive sapphire fossicking tour, or visiting brother Dave's "Fascination Gems" showroom for a learned assessment of your day's finds… this is a great blog packed full of photos of their experience.

Johan & Bo… thanks for paying us a visit and for the great write-up, and best wishes for the rest of your amazing journey!

On a different kind of journey, National Geographic travel writer Max Anderson paid us a visit while researching his "Queensland: What Lies Beneath" article covering various fossicking adventures in Australia.

Its a long way to go digging the dirt at Glenalva in the Central Queensland gemfields but not too far for Max, and no reason not to call it as he sees it…

Next morning I join Keith Bezett, an ornery New Zealander who leads 'tagalong' tours into the gem fields. I'm not quite prepared for the sight: a dozen happy, filthy holidaymakers swinging picks in deep holes along a narrow creek. "They've all got the fever," growls Keith. "See those two blokes? They only came for five days. Four weeks later and I still haven't got rid of the bastards…"

Well ol' Max, what you see is what you get! Check out Max's article for the rest of what he thought about his "Tagalong Sapphire" experience with host and champion digger Keith Bezett… a very amusing and well written piece.  Max… thanks for joining us in sunny Queensland and for spreading the word about the joys of digging in the Gemfields!

If you've written something online about your wonderful experience on Fascination Gems "Tagalong Sapphire Tour" then please let us know… we love to get feedback about your experiences. Mostly.
Recent blog posts: